Complimentary full registration for the conference and exhibition.
Abstract book entry at no charge.
Free guest tickets to invite audiences.
Speaker Certificate in digital format.
There is no formal deadline for speaker submissions, the submissions will be closed once all the speaking slots have been filled out. We encourage all applicants to submit as early as possible.
SPEAKING PROPOSAL 2022
Last updated: 18 October 2021
The information contained herein is subject to change without prior notice.
Modular mini-factories for the autonomous production of ATMPs
Fraunhofer IPA
GERMANY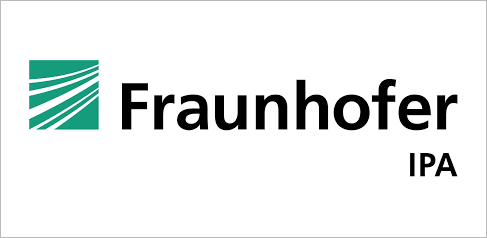 Personalized medicine, in particular cell and gene therapy, is a relatively new class of therapeutics for which standardized production processes do not yet exist. Current processes for the production of ATMPs are often highly manual, therefore time-consuming and expensive. Consequently, many ATMPs are reserved for only a limited number of patients. To solve these problems, new smart approaches to automation are needed. We are proposing a modular approach where the production of CAR-T cells in a standardized form and with high quality at decentralized facilities should become a reality. In the presentation we would like to introduce you to our solution, the "mini-factory" and the core elements of the concept: the modular approach, universal interfaces, robotic interlinking and automation of the process under GMP conditions.
Comparison between centralized and decentralized supply chains of autologous chimeric antigen receptor T-cell therapies
University of Oxford
UNITED KINGDOM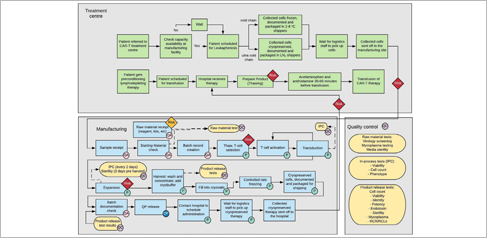 Decentralized, or distributed, manufacturing that takes place close to the point of care has been a manufacturing paradigm of heightened interest within the cell therapy domain because of the product's being living cell material as well as the need for a highly monitored and temperature-controlled supply chain that has the potential to benefit from close proximity between manufacturing and application.
A novel microfluidics based technology: advancing the process development and manufacture cell and gene therapies
MicrofluidX
UK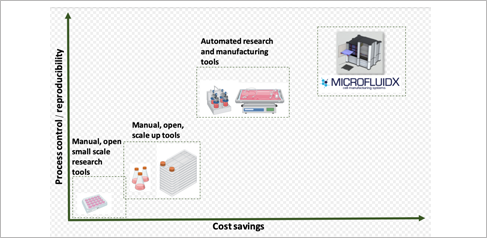 MicrofluidX proposes to showcase the end-to-end bioprocessing capabilities of its microfluidics based bioprocessing platform. The results to be presented show the seeding, expansion, transduction/transfection, and harvesting efficiencies that can be achieved on the platform. In addition, there is discussion of MicrofluidX's efforts in the use of PATs to provide valuable and robust data that can inform process control strategies and process monitoring driving real-time, in-line and on-line product and process understanding. Using an exemplar manufacturing process, the cost of goods savings that can be achieved by the platform in comparison to the current best practices are also presented.
.
.
. Automated Process Control based on in situ measured Glucose concentration in several SUV and SUB
C-CIT Sensors AG
SWITZERLAND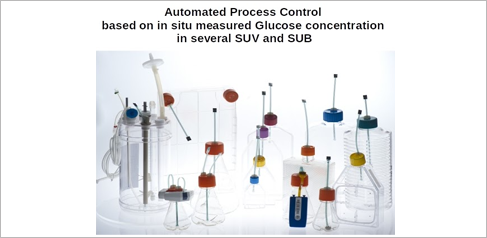 We offer the first process control system for bioproduction based on in situ measurement of glucose and lactate, from smallest vessel to bioreactor scale. Our systems CITSens Bio APC and CITSens MeMo APC make cell line selection easy and fast, allow optimized media & process development and automated media feed. With our solutions sampling is not needed anymore, resulting in reduced contamination risk and cell stress, higher cell density and higher product yields. All our sensors can be adapted to any customized bioreactor. Our systems are suitable for biopharmaceutical as well as for medical applications.
Activation and expansion of human T-cells using microfluidic devices
IREN
ARGENTINA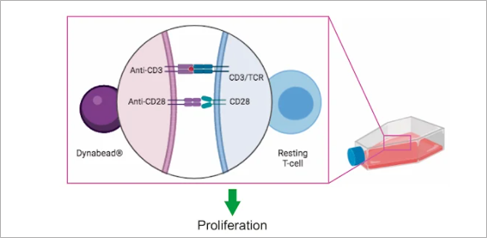 T-cells expressing a chimeric antigen receptor (CAR) are one of the most promising therapeutic modalities for the treatment of hematological malignancies. First, primary T-cell expansion is needed. Then, their activation and proliferation can be better understood if microfluidics is applied as it allows to generate large amounts of data and it is harnessed with image processing to analyze it. One of the major technical hurdles involved in suspension cell culturing is cell immobilization during media renewal. In this work, we use a multilevel microfluidic chip to successfully capture cells. Jurkat and T-cells are isolated through traps to microscopically track their proliferation after activation over a period of 9 days. These multilevel devices provide a new method of studying T-cell activation.
Modular Approach to AI-enabled CAR-T Cell Manufacturing - A Concept for Process Automation
FRAUNHOFER IPT
GERMANY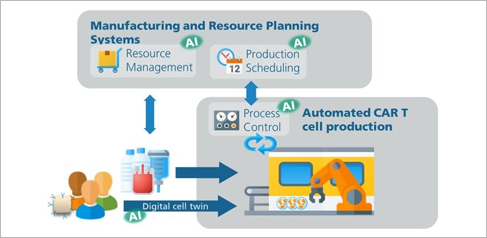 The AIDPATH Project aims to develop a decentralized manufacturing system for CAR-T therapy to be placed in the hospital. The automated platform developed by the Fraunhofer IPT integrates devices for manufacturing CAR-T therapy while em-ploying a closed handling-approach and automated sampling for in-line quality con-trol. AI solutions built into the production process such as a digital twin of the CAR-T product will support the manufacturing process. The presentation will focus on the project and its goals and show the concept for the physical platform. Furthermore, the control software and interfaces to facilitate the automation and the general pro-duction process.
Affiliated Online Meetings